Soap Dispensers
Model No. DH-725-2SP
mini chic 250ml in 2 chambers wall mounted soap dispenser
Mini Chic bathroom twin soap dispenser 250 ml X 2 chamber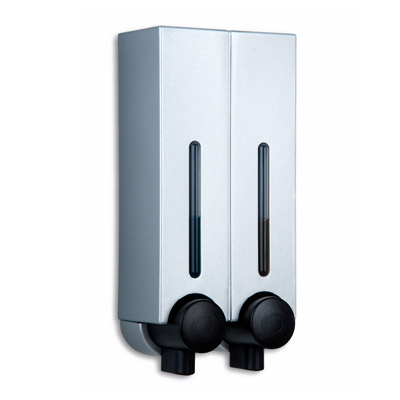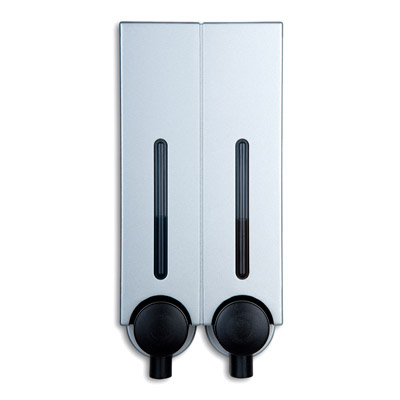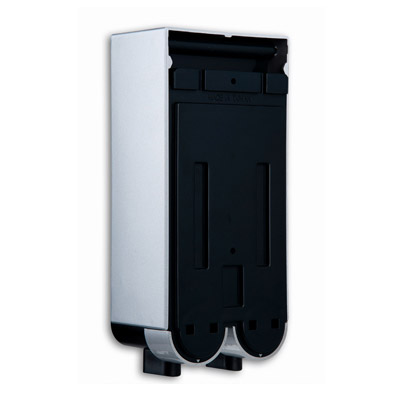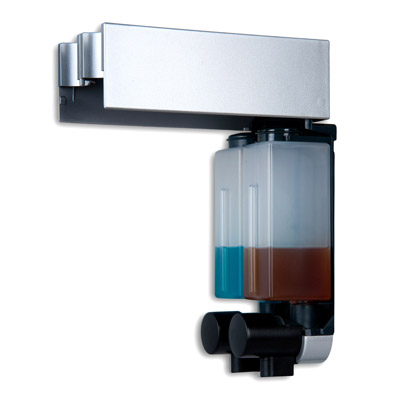 Mini Chic bathroom twin soap dispenser 250 ml X 2 chamber is
With robust wall-mounting plates and screws, it can withstand the rigours of dispensing soap daily while still retaining its charm.
Designed to be practical as well as elegant, refilling the reservoir is kept simple and fuss-free.
Also available as a one chamber unit.
FEATURES & BENEFITS
Designed for use with liquid soap
One-hand push design makes it easy to operate
Custom imprinting available
Specification
Material: ABS
Color: Powder Coating Gloss Silver
Siae: H 215 x W 50 x D 65mm
Capacity: 250ml x 2 chamber
Each Dispense: 0.7 ml
Package Contents:
1 pcs / 1 color box, 24 pcs / 1 carton.
N.W.: 12kg / G.W.: 13kg
CBM: 0.061
Master Carton Size 53.94 x 45.76 x 24.55 cm
Order Information
MOQ: 120 pcs
Delivery: 7-14 days after order confirmed
Photo Gallery

Related Products

Model No. DH-725-2W

---

Mini Chic hand wash soap dispenser 250 ml X 2 chambers offers one of the most attractive, practical and convenient solutions to de-clutter your sink area. Great for the bathroom, kitchen or even by the laundry room sink! To round off a vintage bathroom, this delightful, yet deceptively robust, wall-mounted soap dispenser is the perfect finishing touch. Its wall mounted design elevates soap to more than just a toiletry, as it adds a definite character to the washroom. And your basin will be free from the sticky residue from soap bars, ensuring it keeps its gleaming quality. While it's feminine shape may speak grace and style.Also available as a single unit.

---

Model No. DH-725-2VP

---

Mini Chic bathroom twin soap dispenser 250 ml X 2 chambers is feminine shape may speak grace and style. With robust wall-mounting plates and screws, it can withstand the rigours of dispensing soap daily while still retaining its charm. Designed to be practical as well as elegant, refilling the reservoir is kept simple and fuss-free. Also available as a one chamber.

---

Model No. DH-725-2CP

---

Mini Chic Liquid Soap Dispenser offers one of the most attractive, practical and convenient solutions to de-clutter your sink area. Great for the bathroom, kitchen or even by the laundry room sink! To round off a vintage bathroom, this delightful, yet deceptively robust, wall-mounted soap dispenser is the perfect finishing touch. Its wall mounted design elevates soap to more than just a toiletry, as it adds a definite character to the washroom. And your basin will be free from the sticky residue from soap bars, ensuring it keeps its gleaming quality. While it's feminine shape may speak grace and style. With robust wall-mounting plates and screws, it can withstand the rigours of dispensing soap daily while still retaining its charm. Designed to be practical as well as elegant, refilling the reservoir is kept simple and fuss-free. Also available as a double unit.

---

---

Files Download

---
Press Release
Soap And Shampoo Dispensers Manufacturer

Soap Dispenser Supplier and Manufacturers
Homepluz is a soap dispensers and bathroom shower manufacturer. Which masters in the details of creating bathroom products. We have 150 goods all made...

Read More

Our Mission Statement

We aim to provide efficient and responsible service to customers and agents worldwide and free of concern to work with us as business partner.

Read More

Visit Us

welcome to visit our factory

Read More