What is the advantage of Homepluz Soap Dispenser?
Our Soap Dispenser is lab approved to sustain 100,000 times, and our cartridges is made by SGS approved BPA free material. Further, our dispenser pump is patented non-leaking that draw back liquid after each dispense. We do 100% inspection on our soap dispenser pump and all our operation process is certified by ISO 9001 system.
NON-LEAKING LIQUID DRAW BACK PUMP
Homepluz patented non-leaking pump is approved non-leaking even fill with water. Our dispenser pump can withdraw soap liquid back after each dispenser, so it is guaranteed nice and neat with no leaking problem above sink top and shower room where our soap dispenser is installed and used. Please see comparison video of our liquid draw back feature and other brands.
100,000 Times Dispense / BPA Free Soap Bottle
Homepluz is the first soap dispenser manufacturer in the industry with soap dispenser approved to sustain 100,000 times pump life cycle by lab. We aim to supply quality soap dispenser for long term use, and to minimize material waste in the environment. Furthermore, our soap dispenser cartridge is made by SGS approved BPA free material, we manufacture safe products to fill shower gel and cosmetic products for daily sue with direct contact with human skin, and hope to create a healthy product in the environment. And also, all our soap dispensers are designed for easy refill and replace, and combine with our product durability, all makes our soap dispenser most easy use and easy maintain in the market.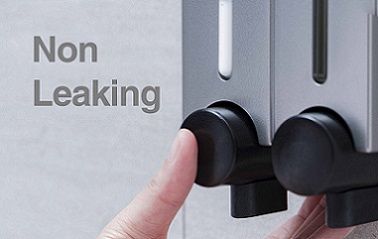 Non-Leaking Soap Dispenser
We do 100% leaking test on all our pumps to make sure each soap dispenser we deliver to our customers are in good function. Pump is the heart of a soap dispenser, before pump is installed onto our products, each and every piece of pump must be inspected for non-leaking test. This is the most important inspection on the pump to make sure our soap dispenser is in good function.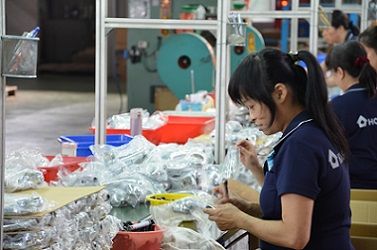 ISO 9001 Certified Production Process
And in order to make our soap dispenser with consistent quality, ever since 2012, we incorporated ISO 9001 quality system to standardize our operation process and procedures, and hence, to make our production and inspection to be accurately executed in our daily operation. And other than leaking test, we have comprehend inspection process incorporated in our ISO 9001 system from incoming material to outgoing shipments, and to achieve true durability and safe and easy maintain.
Movies

HOMEPLUZ DISPENSER - LIQUID DRAW BACK
Press Release
Soap And Shampoo Dispensers Manufacturer

We devoted to make sustainable and safety products for long term use and further, to reduce the material waste, and to create a better cycle of the environment.

Read More

OEM & Customized Production

As an experienced soap dispenser manufacturer, we keep our production flexible to accommodate each of our customer's unique requirement including OME project, customized design, personalized...

Read More

Commitment

From order, to production, to delivery, we make sure every step we take is both environmental friendly and people friendly.

Read More