Commercial Foam and Gel Soap Dispensers
1 Liter Commercial Foam and Gel Bathroom Soap Dispenser
This 1000ml large capacity wall mounted foam and gel dispenser is lockable, suitable for commercial use. Each 1000ml full bottle can dispense 2500 times. It is lockable, safety to use in public toilet and bathroom. The foam pump can dispense ready to use foam soap and gel pump can use with all types of liquid soap and lotion. Large hand press panel for easy hand press and clean.
Furthermore, the clear window on this public bathroom soap dispenser indicate the soap volume, and large bottle open also make refill work easy without any mess. Refillable soap bottle is 100% water washable, easy to keep clean and hygiene. This is one very convenient and low maintain dispenser for public toilet and commercial shower facility.
Please see video below for wall mount installation and refill steps. And continue with product page of each Foam and Gel Dispenser, please click in for more product information.
Shower Dispenser Product Benefit
Foam Soap Version & Gel Soap Version
Foam Pump – dispense ready to use foam soap
Clear Window – view soap level easily
Large Hand Press Panel – easy one hand operation
Lockable – safety to use in public toilet
Large Open Bottle – easy refill
1000ml – each full bottle can dispenser 2500 times

1000ml Large Capacity Commercial Use Dispenser Install & Refill Step
Large capacity lockable wall mounted commercial use dispenser can dispense 2500 times for each full cartridge, clear window to indicate soap volume for easy maintain.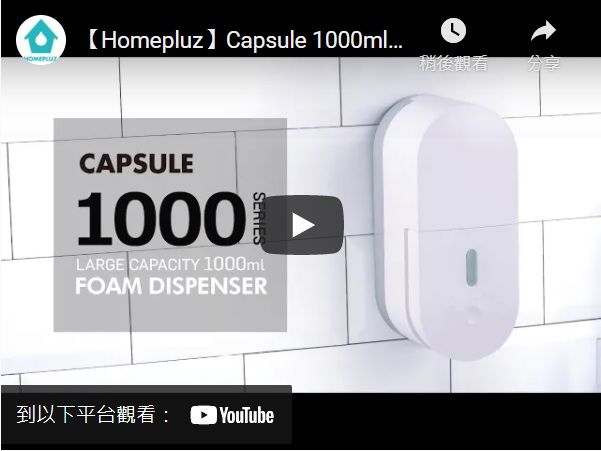 ---

Homepluz foam soap dispenser is suitable for public area such as school, healthcare center, food service environments where hand hygiene is important.

---

---

Homepluz public toilet liquid soap dispenser is exactly what you need if you are looking for a soap dispenser for public space or business premises where liquid soap will be used by high frequency.

---
---
Press Release
Soap And Shampoo Dispensers Manufacturer

We devoted to make sustainable and safety products for long term use and further, to reduce the material waste, and to create a better cycle of the environment.

Read More

OEM & Customized Production

As an experienced soap dispenser manufacturer, we keep our production flexible to accommodate each of our customer's unique requirement including OME project, customized design, personalized...

Read More

Commitment

From order, to production, to delivery, we make sure every step we take is both environmental friendly and people friendly.

Read More