Home Use Soap Dispenser
Model No. HP-725-2W
250ml Double Dispenser - White
Homepluz home use soap dispenser is designed for easy use by home users. This double chamber soap dispenser included with 2 inner refillable cartridges, each cartridge can fill 250ml. This is suitable for home kitchen for dish wash and hand soap or in the restroom for hand wash gel and hand lotion. And the refill step is quick and easy, home user can tell soap volume through the clear window on the dispenser and know when it's time to refill
Mini Chic hand wash soap dispenser 250ml X 2 chambers
Homepluz Mini Chic hand wash dispenser provides maximum convenience and minimum maintain work for users. Each set comes with installation kit for easy DIY installation and also easy use and refill. This is a perfect selection for home use market. This compact size dispenser goes with 250ml soap cartridges x 2, it is suitable to install in the home restroom, kitchen, and shower room.
Soap Dispenser Product Features
● Compact design – ideal for limited space
● Wall mount – to free your counter top space
● Clear window – easy to view soap level
● Easy Install – Wall install kit included
● Safe Material: SGS approve BPA free soap bottle
● 100,000 Cycle Test: Lab test approved press pump sustain 100,000 times use
● **SGS report & 100,000 life cycle test report are available at【FILES DOWNLOAD】below
Homepluz Non Leaking Dispenser Pump Draw Back Liquid Automatically
We are proud to present our Non-Leaking pump to our customers. Our pump is made by industrial grade piston pump system, it offers precise amount at each dispense, and would draw back soap liquid automatically after each dispense to guarantee our counter sink top nice and neat and safe. You can click on video below for how our pump draw back liquid after dispense. You can also see【MOVIES】at the bottom for how our piston pump system works.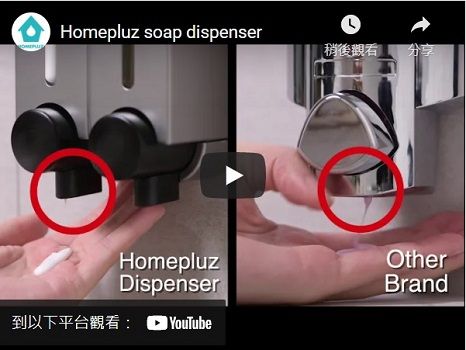 1. Flip up dispenser face plate
2. Pull out cartridge from dispenser
3. Fill soap into cartridge
4. Put soap cartridge back onto dispenser
5. Close dispenser face plate
**Wall Install & Refill step by step instruction video are available at【MOVIES】below
**Instructions manual of Wall Install & Refill Steps are also available at【FILES DOWNLOAD】below
Material: Plastic ABS + PP refillable Insert Bottle
Color Options: White, Gunmetal Gray, Silver, Chrome, Matte Black
Capacity: 250ml (8.4oz) x 2 Bottles
Each Dispense: 0.9 ml
Item Size: H 215 x W 100 x D 65 mm
Country of Origin: Taiwan
Dispenser Order Information
● Standard Oder: MOQ 360 pcs. Order less than 360pcs subject to inventory availability.
● Customized Logo & Package: MOQ 600 pcs
● Customized Color: MOQ 1,000 ~ 3,600 pcs (depends on the color)
● If you like to customize your own dispenser, please send inquiry to us!
Contact Us
Sales Representative: Letitia Wei
Skype: wei.letitia
WeChat ID: Letitia-Hsumao
E-mail: letitia@homepluz.com
Movies

Homepluz 250ml Dispenser Wall Install & Refill Steps

Homepluz Dispenser Pump In Detail Design, Precise Dispense, Liquid Draw Back Technique

Photo Gallery

Related Products

Model No. HP-725-2VP

Homepluz compact soap dispenser is one of the most popular models for wholesale market. This...

Details

Model No. HP-725-2SP

Homepluz BPA free wall mount dispenser is approved by SGS lab testing. The inner refillable...

Details

Model No. HP-725-2CP

Homepluz chrome double dispensers are premium selection of bathroom storage. Each double soap...

Details

Files Download
2022 Catalog
Homepluz 2022 full product list for soap dispenser and bottle holder.

Download
Home Use Soap Dispenser - Mini Chic hand wash soap dispenser 250ml X 2 chambers | 35 Years Hotel & Bathroom Shower Soap Dispensers Manufacturer | HOMEPLUZ
Located in Taiwan since 1980, Hsumao Industrial Co., Ltd. has been a soap and shampoo dispensers manufacturer. Their main soap dispenser, including Home Use Soap Dispenser, Wall Mounted Soap Dispenser, Bathroom Soap Dispenser, Hotel Soap Dispenser, Industrial Soap Dispenser, Shampoo Dispenser, Hand Soap Dispenser, Black Wall Soap Dispenser, Soap Dispenser, Liquid Dispenser, Toiletry Dispenser and so forth.
Simple and stylish soap and shampoo dispenser package design provides well protection for the product inside and clear product image outside the box. Each set comes with instruction manual and installation kit including screws, anchors, adhesive tapes and silicone.
HOMEPLUZ has been offering customers high-quality hotel and bathroom soap dispensers, both with advanced technology and 35 years of experience, HOMEPLUZ ensures each customer's demands are met.
View our quality products
wall mounted soap dispenser
,
water saving hand held shower head
,
wall mounted shower dispenser
,
wall mounted shower dispenser
,
soap dispenser
,
wall mounted soap dispenser
,
bathroom organizers
,
shower dispenser
,
hand wash dispenser
,
liquid soap dispenser
,
bathroom dispenser
and feel free to
Contact Us
.