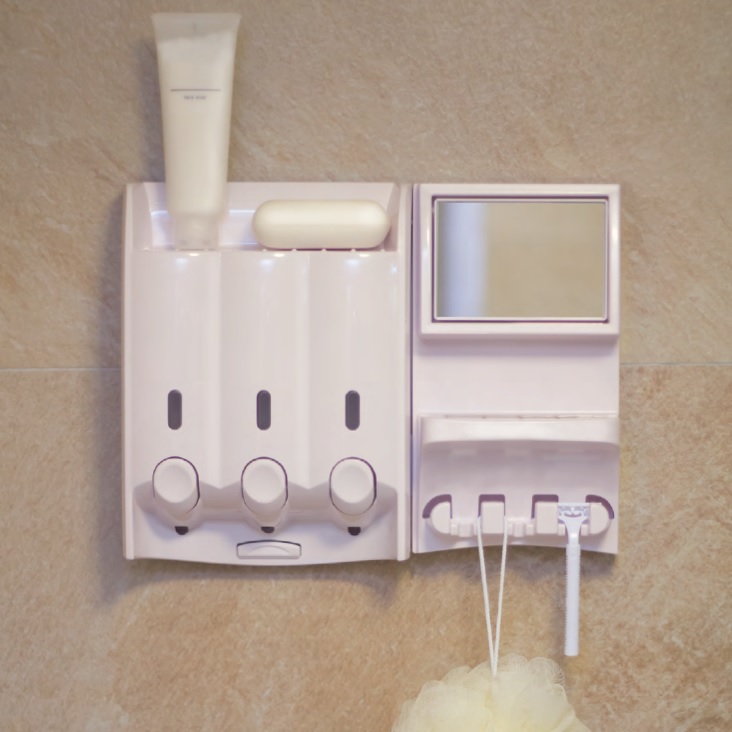 Wall Mount Shower Caddy Soap Dispenser
The Trio wall mount shower caddy soap dispenser provides an ideal solution to eliminate bathtub bottles. This shower caddy allows you to organize a variety of shower liquids including shampoo, conditioner, and shower gel all in one dispenser. 380ml (12 oz.) refillable cartridges are stored inside the trip dispenser. And this shower caddy soap dispenser can be easily attached to the wall with silicone glue and double sided tape. A mirror is also included for shaving, a soap dish for soap bar, and hooks to hang small stuff neatly on it. This is a shower caddy with all features you need in one.
---
380ml Wall Mount Soap Dispenser Organizer
There are three 380ml (12 oz.) refillable cartridges stored inside this trio dispenser, a perfect soap dispenser organizer for shampoo, conditioner, shower gel, etc. The pump dispense 0.7ml soap liquid at each dispense, and the pump draw back soap liquid automatically after each press, non-leaking to keep your shower space nice and clean and safe.
Shower Dispenser Product Benefit
Wall Mount – Free your countertop space
Clear Window – Easy to view soap level
Large Button – Easy to push for everyone, include children and elders
Easy Installation – Instruction manual & installation kit included
Easy Fill & Refill – Remove top cap and fill directly
Soap Dispenser With Max Convenience & Low Maintain
Wall mount solution to free your shower room and countertop space
Clear window to view soap level
Easy Installation with kit included
Easy filling and refilling
Repetitive use can minimize waste and be earth friendly
Made by ABS plastic and rust resistant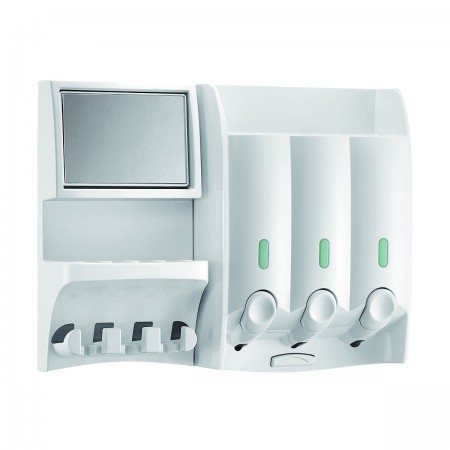 Model No. HP-300-3W
Our Ulti-Mate series of shower dispensers have added storage conveniences, even a built in mirror,...
Details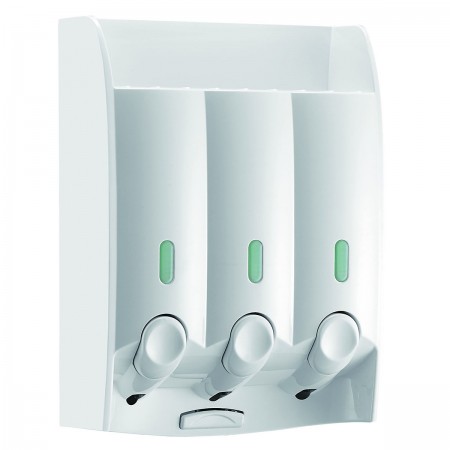 Model No. HP-303-3W
Our caddy dispenser chambered models include integrated storage hooks for you to hang razors...
Details
2022 Catalog
Homepluz 2022 full product list for soap dispenser and bottle holder.

Download
35 Years Wall Mount Shower Caddy Soap Dispenser Supply - HOMEPLUZ
Hsumao Industrial Co., Ltd., since 1980, is a Wall Mount Shower Caddy Soap Dispenser | soap and shampoo dispenser manufacturer based in Taiwan.
Simple and stylish soap and shampoo dispenser package design provides well protection for the product inside and clear product image outside the box. Each set comes with instruction manual and installation kit including screws, anchors, adhesive tapes and silicone.
HOMEPLUZ has been offering customers high-quality bathroom soap and tissue dispensers, both with advanced technology and 35 years of experience, HOMEPLUZ ensures each customer's demands are met.
View our quality products
wall mounted soap dispenser
,
water saving hand held shower head
,
wall mounted shower dispenser
,
wall mounted shower dispenser
,
soap dispenser
,
wall mounted soap dispenser
,
bathroom organizers
,
shower dispenser
,
hand wash dispenser
,
liquid soap dispenser
,
bathroom dispenser
and feel free to
Contact Us
.