Wall Mounted Bathroom Soap Dispenser
Bathroom soap dispensers on wall for hotel use
Wall mounted soap dispensers is for bathrooms and hotel use. This soap dispenser is lockable to ensure free of pollution concern on soap liquid inside. Each soap dispenser models with separate cartridges, easy refill and easy replace by housekeeper. The cartridge material is SGS approved BPA free, and safe to use with alcohol container sanitizer, shower gel, shampoo, lotion, etc. Size is available from single, double, triple and four cartridges dispenser; and each soap cartridge can fill 350ml.
The soap dispenser is tamper proof with lock, soap liquid insider each cartridge is free of cross contamination concern. Lock installed at the dispenser side, not easily visible by guests, but still easily lock and unlock by housekeeper when need to refill and replace soap cartridge. And ideal design soap dispensers for hotels.
Soap Dispenser With Max Convenience & Low Maintain
Quick refill and easy replace cartridge.
Lockable with better security for hotel use
Multiple chambers options available (Single, Double, Triple and 4 chamber) to declutter different shower and shampoo bottles.
Clear window to view soap level, easy maintain for housekeeper
Pump position at bottom, soap liquid can be 100% used before replaced
**You can see video below for step by step soap dispenser wall install and refill instruction.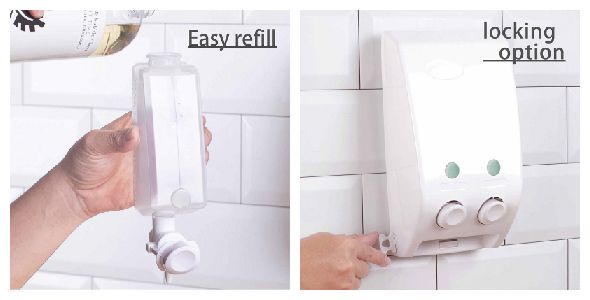 Wall Mounted 350ml Lockable Bathroom Dispenser Install & Refill Step
350ml bathroom soap dispenser is lockable. Lab approved to sustain 100,000 times life cycle, patented non-leaking pump with SGS approved BPA free soap cartridge.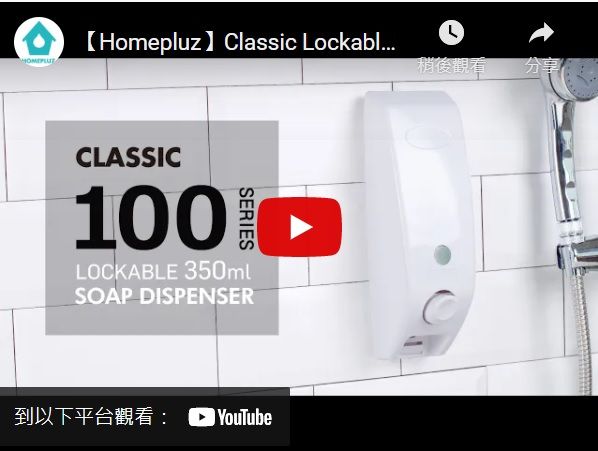 ---
Press Release
Soap And Shampoo Dispensers Manufacturer

We devoted to make sustainable and safety products for long term use and further, to reduce the material waste, and to create a better cycle of the environment.

Read More

OEM & Customized Production

As an experienced soap dispenser manufacturer, we keep our production flexible to accommodate each of our customer's unique requirement including OME project, customized design, personalized...

Read More

Commitment

From order, to production, to delivery, we make sure every step we take is both environmental friendly and people friendly.

Read More