Clear Dispenser
Model No. SBD-102W
clear soap dispenser
clear soap dispenser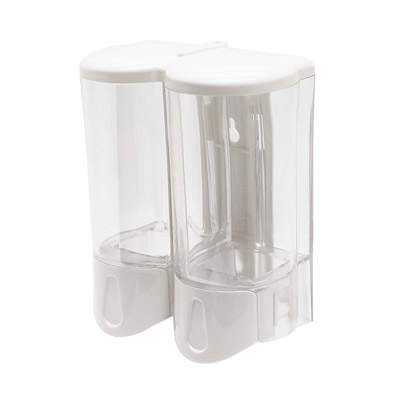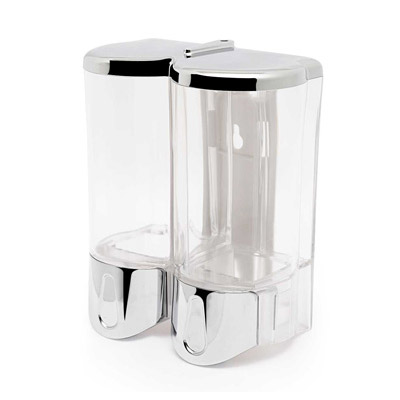 The clarity series of soap and shower dispensers are the most beautiful solution for bath and shower organization. An inspired combination of Design, Style and Practicality.
The most elegant shower dispenser ever. Mounted by the sink, our single chamber model blends in seamlessly with the décor of the most upscale bathrooms. Our two and three chambered models include integrated storage hooks for you to hang razors and accessories.
FEATURES & BENEFITS
Eliminates shower bottle clutter and container lifts off the wall for easy cleaning and re-filling
can be mounted either in a corner or flat on a wall
Smooth, reliable pump has a Lifetime Warranty
Installs without tools in minutes with waterproof silicone adhesive and 2-way tape (included)
Housing constructed from durable, water-resistant ABS plastic.
Homepluz Shower Dispenser Specification
Material: Plastic ABS
Color: White / Chrome
Size: 175mm x 139mm x 88mm
Capacity: 500mlx2 / 0.77ml each dispense
Package for Homepluz wall mount dispenser
1 pc in a retail box, 20 pcs in a master carton.
N.W.: 10gs / G.W.: 11kgs
1.94.'cuft / 0.0549CBM.
Order Information
MOQ: 500 pcs
Delivery: 30 days
Price Term: FOB Taiwan Taichung
Photo Gallery

Related Products

Model No. SBD-101W

---

The clarity series of soap and shower dispensers are the most beautiful solution for bath and shower organization. An inspired combination of Design, Style and Practicality. The most elegant shower dispenser ever. Mounted by the sink, our single chamber model blends in seamlessly with the décor of the most upscale bathrooms. Our two and three chambered models include integrated storage hooks for you to hang razors and accessories.

---

Model No. DH-725-2VP

---

Homepluz compact soap dispenser equips with all the functions of a soap dispenser requires in slim and mini design. The wall mount solution can free up the space on the floor and countertop. It's refillable feature can reduce the use of plastic bottles. This compact soap dispenser can be filled with shower gel, shampoo, lotion, even dish wash detergent, all depends on where you like to install our compact soap dispenser.

---

---

Files Download

---
Press Release
Soap And Shampoo Dispensers Manufacturer

We devoted to make sustainable and safety products for long term use and further, to reduce the material waste, and to create a better cycle of the environment.

Read More

OEM & Customized Production

As an experienced soap dispenser manufacturer, we keep our production flexible to accommodate each of our customer's unique requirement including OME project, customized design, personalized...

Read More

Commitment

From order, to production, to delivery, we make sure every step we take is both environmental friendly and people friendly.

Read More