Kitchen Wall Mount Dispenser
Model No. DH-725-1SP
mini chic 250ml wall mounted soap pump dispenser
Silver Finished Mini Chic Hand Soap Dispenser in 250 ml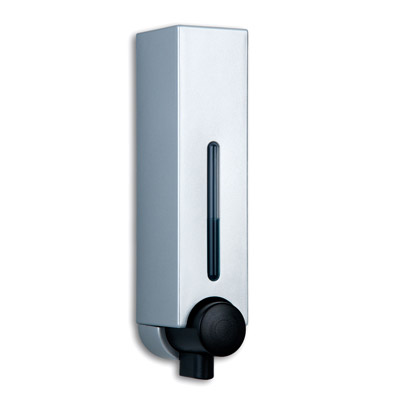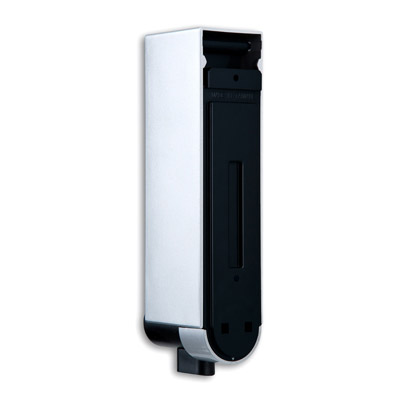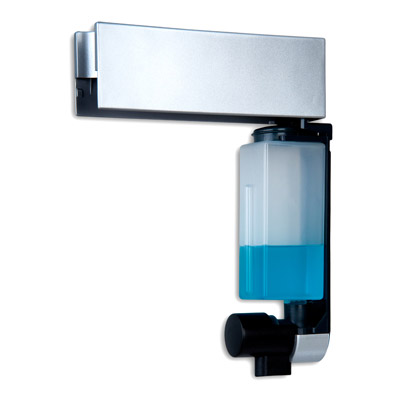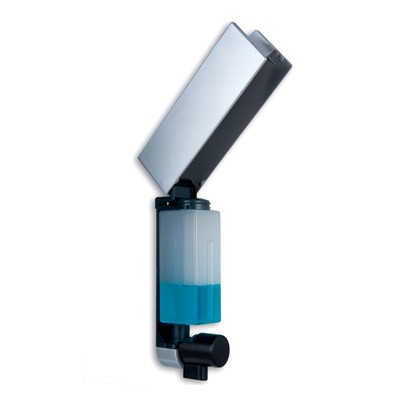 Homepluz kitchen wall mount soap dispenser is perfect for kitchen use. This 250ml compact kitchen use dispenser can be wall mounted on the wall above your sink counter top space. You can fill not only hand soap liquid but also dish wash detergent in the two chamber models. It's the ultimate solution for all-time mess sink area in your kitchen and say bye bye to clutter!
FEATURES & BENEFITS
Wall mount solution to free your shower room and countertop space
Clear window to view soap level
Easy Installation with kit included
Easy filling and refilling
Repetitive use can minimize waste and be earth friendly
Made by ABS plastic and rust resistant
BPA Free refill bottle insert
Pump sustains more than 100,000 times push
Customize Service Available
One hand operation, easy use for everyone
Water washable
Wipe gently by wet cloth can remove the stain and dust on the cover.
Clear window design, user can view soap level easily
Wall mount solution to free up your shower room space, and declutter shower bottles
Innovative pump with liquid draw back design
Non-leaking for clean and safety use
Precise soap volume at each dispense to reduce waste
First in, first out
The soap liquid can be completely empied
1. Option A: Screw install
2. Option B: Tape+Silicone install
3. Option C: 3M VHB Tape
** Choose one install option
Homepluz Shower Dispenser Product Spec
Material: Plastic ABS + PP refillable Insert Bottle
Color Options: White, Gunmetal Gray, Silver, Chrome, Matte Black
Capacity: 250ml (8.4oz) x 1 Bottles
Each Dispense: 0.9 ml
Item Size: H 215 x W 50 x D 65 mm
Country of Origin: Taiwan
Package for Homepluz wall mount dispenser
1 PC in a retail box, 24 piece in a master carton
Carton N.W.: 6.3 kg, G.W.: 6.8 kg
Carton CBM: 0.037
Order Information
MOQ: 500 PC
Lead Time: 30 days
Term: EX-Work, FOB, CIF, DDU, etc.
Movies





Photo Gallery

Related Products

Model No. DH-725-1W

---

Homepluz refill liquid soap dispenser are designed for easy filling and refilling. Just flip up the top cover, pull out the inner bottle, remove the top cap, then you can fill and refill directly the soap liquid into the refillable cartridge. Also, the clear window design makes it easy to view soap level and user can tell easily when need to refill in this soap dispenser.

---

Model No. DH-725-1VP

---

Homepluz hand wash dispenser is 250ml in each chamber; and there are one and two chambers available for this model. They can be installed in your kitchen and restroom, even shower rooms. Furthermore, the large round pump makes it easy to push for children and elders when they need to wash their hands; they can use this soap dispenser easily. Plus, the pump can sustain more than 100,000 times pushes and still functions well; this is certified by 3 party lab.

---

Model No. DH-700-1VP

---

Homepluz shampoo dispenser is certainly not for shampoo only; it can be used for lotions, body wash, shower gel; conditioners. For the first time using this dispenser, there is few techniques to prime the pumps.First of all, push the pump bottom in. Secondly, place your finger over the outlet of the pump to block the airflow up into the pump. Then, keep your finger over the outlet and release the pump button. And then remove your finger from the outlet. Please repeat those steps until you have a continuous flow of liquid. This may several times if thicker soap liquid is filled.You can refer to Movies below for those steps in film.

---

---

Files Download

---
Press Release
Soap And Shampoo Dispensers Manufacturer

We devoted to make sustainable and safety products for long term use and further, to reduce the material waste, and to create a better cycle of the environment.

Read More

OEM & Customized Production

As an experienced soap dispenser manufacturer, we keep our production flexible to accommodate each of our customer's unique requirement including OME project, customized design, personalized...

Read More

Commitment

From order, to production, to delivery, we make sure every step we take is both environmental friendly and people friendly.

Read More