Durable Metal Shampoo Dispenser Fixture Black for Repetitive Use
DH-LINEAR-2B
Shampoo Dispenser Fixture Black
Durable Metal Shampoo Dispenser Fixture Black for Repetitive Use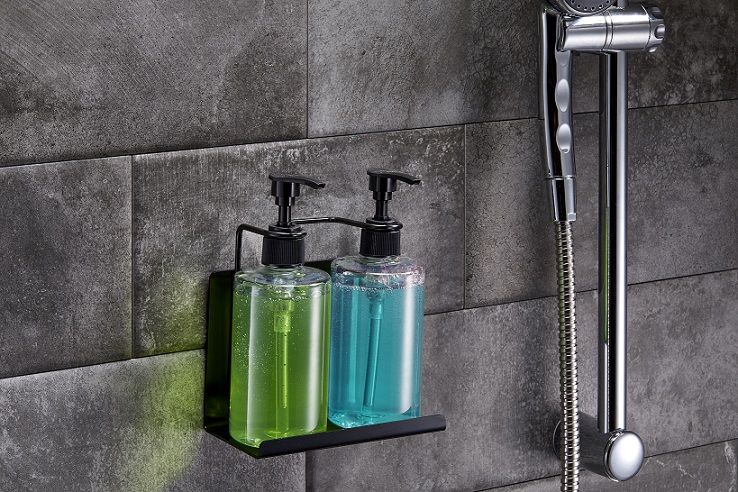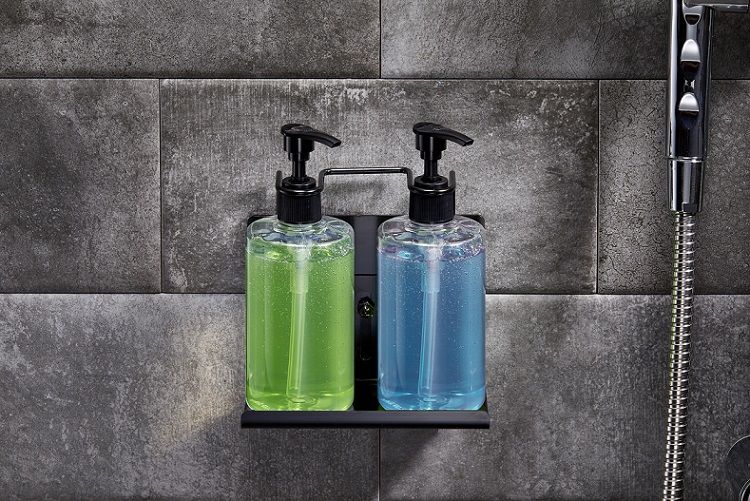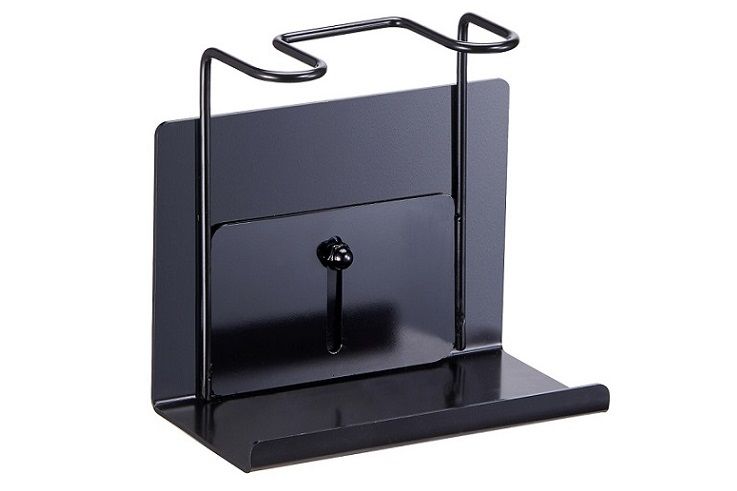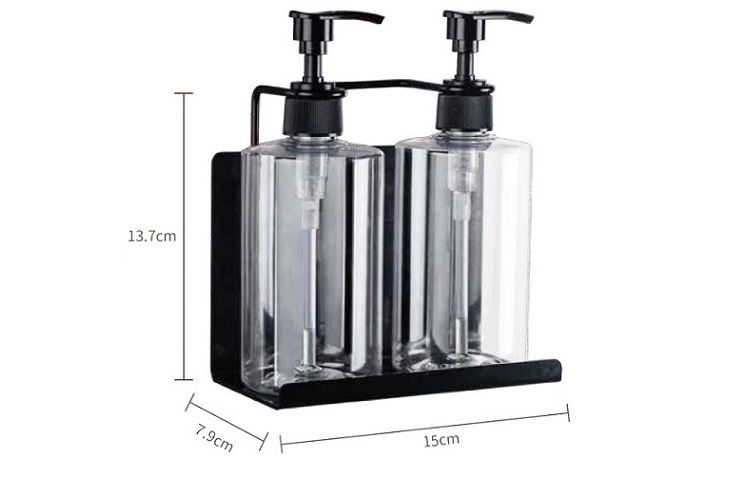 Dual soap dispenser fixture is made by stainless material; and so this metal shampoo bottle holder is durable and can be used repetitively. It is designed to minimize the use of materials; a repetitive use fixture and soap bottle can greatly reduce the use of plastic consumption. Further, black is the color that always matches to any décor or any interior, an ideal selection when various shampoo bottles needed at home and hotel.

Please see below for 2 Reasons To Choose Our LINEAR Stainless Shampoo Bottle Holder!
Safety Lock With Friendly Look Amenity Bottle Holder
Most metal dispenser shelf with lock looks heavy and sometimes may even look defending to the guests; and this does not deliver good impression to the guests who seeks relaxing and comfort stay in the hotel.

We hope to provide a soap dispenser bottle shelf with locking feature, and yet, still looks friendly at the same time. And our LINEAR is an inspiration based on this. We make our locking system understated with nice looking to the guests, and still, safe to use as only housekeeper can remove the bottles to refill and replace.
Quick Replace and Neat Refill Hotel Bracket Bottle Set
Some metal dispenser would lock the bottle in place and uneasy to remove, and for such case, the refill work is limited to be done with bottle fixed on the shelf, and this may cause messy during refilling and bring much more clean work for housekeeper.

Our LINEAR bottle can be completely removed from the shelf easily. This makes the maintain work easy and convenient for housekeeper. As bottle is removed completely from the shelf, the whole bottle and pump can be washed. Further, the housekeeper can do refill and replace work much easier and quicker without making messy while refilling.
Product Specification
1. Stainless Shelf: 2-Bottle and 3-Bottle
2. Color: Chrome and Black
3. PET Bottle Capacity: 350ml (11.8 oz)
4. Minimum Quantity, Stainless Shelf: 500 pieces / Bottle: 1000 pieces
5. Installation Kit includes screws & wall plugs.
6. + US$2.00 for adhesive tapes & silicone glue
7. Packing: 1 pcs / box; 12 box / 1 carton
Customized Your Wall Mount Bottle Holder
Shelf OEM – Size fits to your need
Material: Stainless
Minimum Q'TY: 1,000 pieces
Mold Cost: US$ 1,000
Bottle OEM – Size and Color fits to your need
Material: PET bottle
Minimum Q'TY: 10,000 pieces
Bottle Branding
Method: Sticker or Screen Printing
Wall Mount Shampoo Bottle Holder Install Instruction A - Textured Wall Surface
1. Mark the locations of screw holes
2. Drill on the wall by 7mm drill bit
3. Hammer the wall plugs in the drilled holes
4. Place the unit against the wall and screw into position
5. Put the bottles on the shelf in place
6. Screw hex nuts tightly between the bottles
Wall Mount Shampoo Bottle Holder Install Instruction B - Smooth Wall Surface
1. Clean the wall carefully by alcohol pad and dry well
2. Apply adhesive tapes on the back plate
3. Apply silicone glue on the back plate. Make sure silicone glue is thicker than adhesive tapes
4. Press back plate firmly against the wall, and leave it 24 hours for silicone glue to fully dry
5. After 24 hours, put the bottles on the shelf in place
6. Screw hex nuts tightly between the bottles
Photo Gallery

Related Products

DH-LINEAR-2C

---

Stainless Steel wall mount soap dispenser holder can be fit perfectly in any hotel shower room space. This shampoo bottle holder equips with friendly locking system that helps to keep bottle and pump in place. This design efficiently reduce the risk of cross-contamination and provide safety use for hotel guest, furthermore, the understated lock design delivers friendly impression to the hotel guests.Please see below for 2 Reasons To Choose Our LINEAR Stainless Shampoo Bottle Holder!

---

DH-LINEAR-3C

---

Triples hotel amenity dispenser shelf with 3 bottle holder. It is designed to mount on the wall and helpful to declutter the counter top and shower space in the hotel guest room. It can be mounted at any desired position for guest and housekeeper convenient use in the shower room. A great space saving option for limited sink and counter space or shower room area.Please see below for 2 Reasons To Choose Our LINEAR Stainless Shampoo Bottle Holder!

---

DH-LINEAR-3B

---

Triple stainless steel hotel shampoo bottle can holds 3 bottles, and each bottle can fill 350ml shampoo and shower gel and lotion. The clear soap bottle can be custom branded by hotel name or liquid soap logo and deliver consistent brand image to impress the guests and promote your brand. The clear shampoo and shower gel bottle design is for fast refill and easy maintain. The housekeeper can view soap level easily and this makes maintain work much faster.Please see below for 2 Reasons To Choose Our LINEAR Stainless Shampoo Bottle Holder!

---

---

Files Download

---
Press Release
Soap And Shampoo Dispensers Manufacturer

We devoted to make sustainable and safety products for long term use and further, to reduce the material waste, and to create a better cycle of the environment.

Read More

OEM & Customized Production

As an experienced soap dispenser manufacturer, we keep our production flexible to accommodate each of our customer's unique requirement including OME project, customized design, personalized...

Read More

Commitment

From order, to production, to delivery, we make sure every step we take is both environmental friendly and people friendly.

Read More